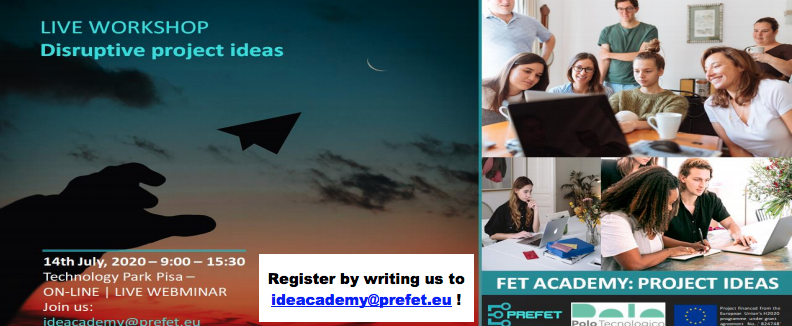 For what? Supporting researchers to work together in building high promising ideas for R&D projects within top emerging trends in technology with great potential for social impact and R&I development. These trends have been identified, studied, informed and prioritised through a combination of the most advanced data mining AI engines, human intelligence and crowd/expert perception. If you want to learn more about the trends, click here.
For whom? Senior and young researchers in multidisciplinary areas such as new ways of Computing (i.e. neuromorphic computing), Artificial Intelligence, Life Sciences, Environmental Sciences, Biotechnology, Bionics, Advanced sensoring and materials, Chemistry, Physics, Mathematics, 3D printing, Humanities, and Social Sciences. It is also open to high-tech SMEs and people interested into prospective activities, creativity and ideation.
Targeted key trends for this PREFET Creativity Workshop:
Ethically Trustworthy AI & Anonymous Analytics
Beyond 5G Hardware
New Approaches to Data Interoperability in IOT
How? Using creativity techniques and usable tools for online collaboration. Register free of charge by sending an email to: ideacademy@prefet.eu 
Planned agenda:
09:00 – 09:30 Welcome opening and presentation of participants
09:30 – 10:00 Trend(s) presentation by PREFET and invited researchers 1
0:00 – 11:30 Creativity Round 1
11:30 – 11:45 Break
11:45 – 13:45 Creativity Round 2
13:45 – 14:15 Break
14:15 – 15:15 Creativity Round 3
15:15 – 15:30 Wrap-up and next steps
The following tools will be used for online interaction: Tele-conferencing platform (GoToMeeting) and Online participation tool (Miro).
This workshop is supported by NExtIN, MADRI+D and the Technology Park of Pisa.
About PREFET
The PREFET Project Is About Evidence-Based Detection Of Emerging Technology Trends With High-Impact Potential, And Funnel Them Down To Successful FET Proposals For 2019 And 2020 Calls (And Their Continuation Under The New Pathfinder Program From The European Commission).