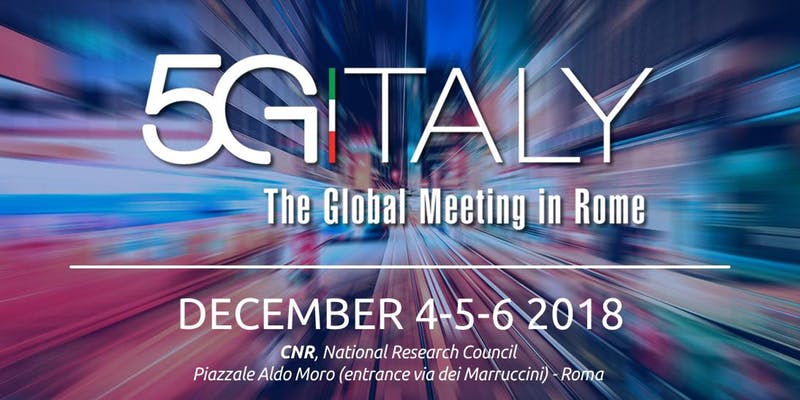 5GItaly is the event where politics, regulatory authorities, research, businesses, economy and public administrations meet, addressing the challenges and opportunities of the upcoming 5G network, as well as ultra-fast and ultra-secure Internet.
The conference is promoted by the CNIT (National Inter-University Consortium for Telecommunications).
5GItaly will be a three-day journey into the world of 5G. The event will focus on Policy and Research, dealing with the most relevant vertical applications: Media and Tourism, Energy, Industry 4.0, Security, eHealth, Public Administration, Transports, Mobility and Automotive, and Infrastructure Protection. Last but not least, an update will be given on 5G trials currently on going in Italy. A special session on "5G for Europe" is also on the agenda and a panel "Fiber for 5G" (in partnership with FTTH Council) will include discussions on European experiences. During the Conference, personalities and experts in the field of research will give "short lectures" on different 5G themes.
Cooperation and debates on 5G cannot be but global, comparing experiences, trials, new services being designed and already implemented and shared solutions to common problems. 5GItaly will offer an overview of the recent developments in the field of 5G technology and solutions around the world. 5G will boost businesses in every sector, offering advanced services in manufacturing production. A new, inter-connected world will open up, creating added value for industries and consumers and pushing the growth of global economy. 5GItaly will highlight the changes companies shall undergo by means of new organization and new business models.
5G requires high-level technical and scientific knowledge and skills. Universities, research centers, and specifically CNIT (National Inter-University Consortium for Telecommunications), can and shall contribute. A new, special relation among universities, scientific research and business is required. The event intends to draw the attention of policy-makers and institutional bodies to the wide and special role of universities and their research centers.
For more information visit the website